As a 21 year retired Army Black Hawk helicopter pilot, I've traveled to many countries in the world including Germany, Holland, France, Korea, and Saudi Arabia.  I'm a die-hard foodie and have eaten in some great restaurants throughout my travels.  While I wouldn't consider the cracker a glamorous food, I stumbled upon one that stood out so much that I wanted to share it with the world. I discovered this cracker in a little Italian restaurant in Montgomery, Alabama, and the moment I tasted it, it was "love at first bite!"
Although the restaurant in Montgomery has long-since closed, I wanted that amazing flavor to live on.  I pored over dozens of recipe variations and conducted countless taste-tests.  I perfected the recipe and learned the best way to infuse each cracker with that delectable flavor.  What emerged defined the phrase "Deliciously Addictive!"  I enlisted the aid of my daughter Savannah, a marketing major in college, to marry our recipe with the perfect branding… And thus was born the KRACKER…
We hope you enjoy our KRACKERS, and find them as "Deliciously Addictive" as we do!
Bon Appetit!
–Terry & Savannah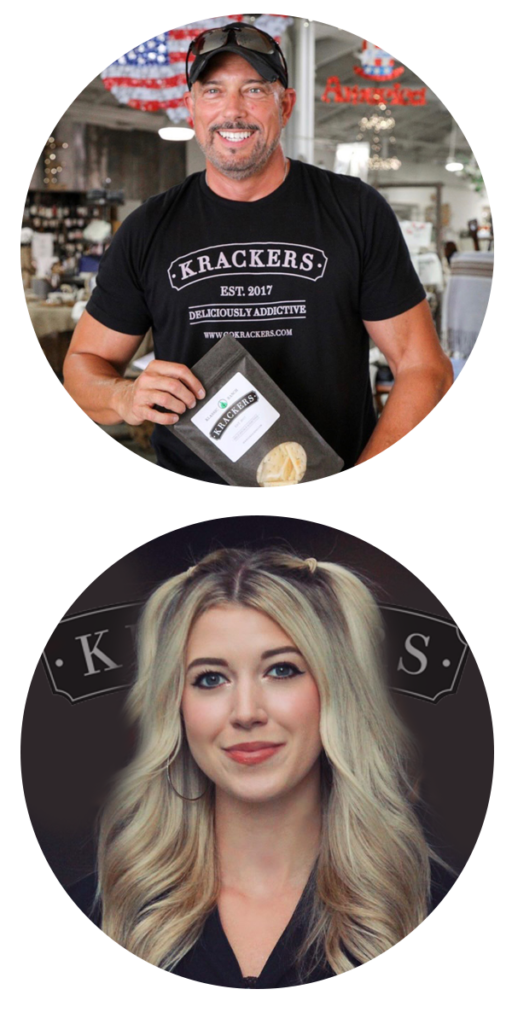 At Krackers, LLC, our goal is to provide a quality product that leaves a lasting impact on every customer.
We believe that a cracker is more than just a salt and butter recipe. Our Kracker has a flavor unlike any other cracker or snack on the market. By using healthy, hearty canola oil and infusing our Krackers with the perfect spices, we have created a delicious snack that will melt in your mouth and have your taste buds craving more.
We know that you are tired of boring snacks and want something that will spice things up and leave a lasting impression, and we have worked tirelessly to create a snack for you that will do just that! Our customers absolutely love the timeless flavor of Krackers and are always wanting more. We believe that everyone deserves to have a delicious snack that can bring friends and family together and can be enjoyed any time and any place!